Event Coverage Highlight
Memorial for Seymour Topping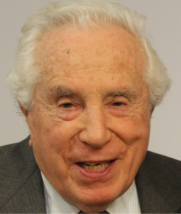 Please join the OPC and the Silurians for an online video memorial to Seymour Topping, the distinguished foreign correspondent and author who had impact on the lives of so many people and institutions involved in coverage of China and international affairs. "Top," a longtime member and past Governor of the Overseas Press Club, passed away in November at the age of 98. The memorial will be held at 7:00 p.m. Eastern Time on Friday, Jan. 22.
Please RSVP to receive the Zoom link about an hour before the program via email.
You can visit a Vimeo channel dedicated to his life and work here.
OPC Past President Bill Holstein will moderate. Speakers will include Mort Rosenblum, Warren Hoge, David Phillips, Allan Dodds Frank, Sonya Fry, Sig Gissler, James Brooke (currently in Ukraine), Top's former student, Michael Goldfard, and grandson Jason Topping Cone.
Top's wife, Audrey, is expected to observe, as are two daughters, Lesley Topping and Karen Topping Cone. Video and pictures will be shown.
Top also was a member of the Silurians Press Club, which gave him their "Lifetime Achievement Award." The Silurians are co-sponsoring the memorial.
You can read more about Topping's life and work on the OPC's People Remembered page here.