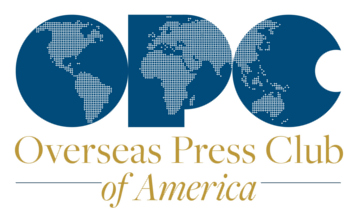 The Overseas Press Club of America, which represents more than 500 journalists engaged in international reporting and editing, has been monitoring with growing concern the deteriorating conditions for journalists and media organizations in Nicaragua.
Under President Daniel Ortega, at least 90 journalists have fled the country in fear of their lives or their freedom in just over three years. One journalist, Ángel Gahona, was shot and killed while reporting on an anti-Ortega demonstration. Foreign journalists have had their accreditations canceled or have been expelled.
All this has taken place as President Ortega cracks down on political opponents ahead of the November presidential election. The pace of intimidation and violation of press freedoms and human rights has increased in intensity as the election approaches.
U.N. High Commissioner for Human Rights Michelle Bachelet has warned that "a climate of fear" makes it unlikely that a free and fair vote will be held. "This crisis not only shows no signs of being overcome, but it has worsened alarmingly," she said. The UNHCR has documented 34 cases of intimidation, threats, criminalization and smear campaigns against journalists and media outlets perceived as loyal to the political opposition.
Among the journalists the government has singled out is Univision's Maria Lilly Delgado, who has been barred from leaving Nicaragua. Daniel Coronell, president of Univision News, said he was "deeply concerned by the direct and indirect threats" against her, adding that she "is doing essential reporting and should be able to continue doing her job without harassment."
Other journalists have fled Nicaragua. Carlos Chamorro, the publisher of digital newspaper Confidencial, announced that he and his family were leaving the country after police raided his home. He said the government is imposing a state of fear "to immobilize the whole country and eliminate political competition for the coming election."
Chamorro's sister, Cristiana Chamorro Barrios, the leading opposition presidential candidate, was placed under house arrest in June on money laundering charges. She is also vice president of La Prensa, an opposition newspaper that had been led by her father, Pedro Joaquín Chamorro, who was assassinated in 1978. Their mother, Violeta Chamorro, defeated Ortega in the 1990 presidential election.
The Ortega government has blockaded newsprint and ink essential to print La Prensa and another leading Nicaragua paper, El Nuevo Diario. Miguel Mora, founder and owner of independent news network 100% Noticias, his wife and the network's news director were arrested and imprisoned in El Chipote, Nicaragua's notorious prison, before being moved to a maximum security facility. "We were locked in small graves," Mora told the Committee to Protect Journalists.
At least 20 nations from Europe and the Americas have expressed concern about the ongoing oppression against civil society, journalists, media outlets and opposition figures. They have also decried the Ortega government's enactment in October of the Foreign Agents Law, which requires any organization receiving foreign funding to register with the government.
The U.S. State Department said the law, which led to the closure of the Nicaragua chapter of PEN International, threatens to "drive Nicaragua toward dictatorship." In February, the Violeta Barrios de Chamorro Foundation, which monitors press freedom, said it was also suspending operations due to the law.
Another new law bans the dissemination of "fake news," with the government defining what's real versus fake. Violators face up to five years in prison.
The Overseas Press Club of America, which seeks to ensure fair and accurate reporting worldwide, condemns these actions by the Nicaragua government. Curtailing press freedom limits the political debate that allows democratic countries and institutions to thrive. We urge the government of Daniel Ortega to cease its harassment of journalists so that Nicaragua's election will be transparent and fair, and so that the country can avoid becoming a pariah nation.
---
The Overseas Press Club of America is the nation's oldest and largest association of journalists engaged in international news. Every year, it awards the most prestigious prizes devoted exclusively to international news coverage. It was founded in 1939 by nine foreign correspondents in New York City, and has grown to nearly 500 members worldwide. The club's mission is to uphold the highest standards in news reporting, advance press freedom and promote good fellowship among colleagues while educating a new generation of journalists.