Press Freedom
Myanmar, {Burma}
OPC Applauds Release of Reuters Journalists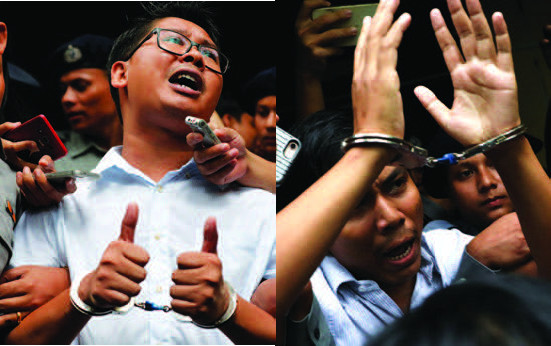 NEW YORK, May 7, 2019—The Overseas Press Club congratulates Reuters on the release of reporters Wa Lone and Kyaw Soe Oo who have been pardoned by Myanmar authorities.  The journalists were arrested in December 2017 and later convicted of violating Myanmar's Official Secrets Act and sentenced to seven years in prison.
Read the Reuters story here >>
Their release is a major victory for the global press freedom movement and Reuters' relentless advocacy for their imprisoned journalists.
"We are enormously pleased that Myanmar has released our courageous reporters, Wa Lone and Kyaw Soe Oo," said Steve Adler, editor in chief, Reuters in a statement. "Since their arrests 511 days ago, they have become symbols of the importance of press freedom around the world. We welcome their return."
The United Nations praised the release of the Myanmar reporters but cautioned that "no positive progress has been observed" in the Myanmar's government's stance against freedom of expression.
"The situation for freedom of expression (in Myanmar) is dire," said Ravina Shamdasani, a spokesperson for the UN Human Rights Office.
The journalists were arrested in December 2017, a sign of Myanmar's deteriorating press freedoms under Nobel laureate and civilian leader, Aung San Suu Kyi.
They were convicted on charges of violating the official secrets act and sentenced to seven years each.
---
The Overseas Press Club is an international association of journalists based in New York City that works to encourage the highest standards in journalism, to educate the next generation of foreign correspondents and to promote international press freedom and the well-being of colleagues in the field.