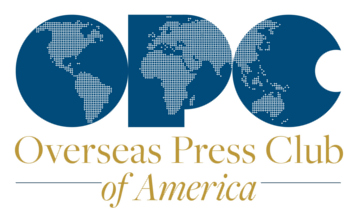 The deterioration in the treatment of foreign journalists in China has reached the point that it has triggered a statement of concern from the U.S. Department of State.
The United States is deeply concerned with the increasingly harsh surveillance, harassment and intimidation of U.S. and other foreign journalists in China, State Department spokesperson Ned Price said in a statement.
"The PRC (People's Republic of China) government claims to welcome foreign media and support their work, but its actions tell a different story," Mr. Price said. "Its harsh rhetoric, promoted through official state media, toward any news it perceives to be critical of PRC policies, has provoked negative public sentiment leading to tense, in-person confrontations and harassment, including online verbal abuse and death threats of journalists simply doing their jobs."
The OPC, which has established a China Working Group, also has expressed concern about China's treatment of foreign journalists and its expulsion of about 16 American journalists last year. Similarly, the Chinese government appears to have encouraged a harassment campaign against the BBC's John Sudworth and his wife Yvonne Murray that forced their sudden departure from Beijing in March. 
The OPC has supported the work of the Foreign Correspondents Club of China, which is on the frontline of the effort to preserve international reporting on the Chinese mainland.
The OPC held a virtual program on June 15 with three correspondents who were either denied visas or intimidated into leaving China – Chris Buckley of The New York Times, Gerry Shih of The Washington Post and Murray, a reporter for Irish public service broadcaster RTÉ.
The expulsions and harassment of foreign journalists raises questions about the media's coverage of the Winter Olympics scheduled to begin in Beijing in February 2022, the State Department said.
The OPC and 27 other press clubs and media non-profits have called on the International Olympics Committee in Lausanne to establish that foreign journalists covering the games will be able to obtain visas, hire their own support staffs and travel beyond the specific sites where games will be held. See this link for details. The IOC has declined to discuss these issues until September, after the Summer Olympics in Japan are concluded.
"It's difficult to see how the Chinese government's campaign of harassment and expulsions is going to set the stage for the foreign media to successfully cover the Winter Games," said William J. Holstein, co-chair of the China Working Group.
---
The Overseas Press Club of America is the nation's oldest and largest association of journalists engaged in international news. Every year, it awards the most prestigious prizes devoted exclusively to international news coverage. It was founded in 1939 by nine foreign correspondents in New York City, and has grown to nearly 500 members worldwide. The club's mission is to uphold the highest standards in news reporting, advance press freedom and promote good fellowship among colleagues while educating a new generation of journalists.