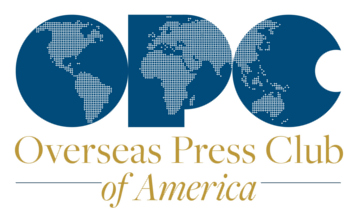 Sept. 9, 2021–The Overseas Press Club of America elected seven new governors to its board at the club's annual meeting tonight. Members also voted to re-elect six journalists or media professionals who have served on the board for the past two years.
Joining the board are Raney Aronson-Rath, the executive producer of PBS' FRONTLINE; Anup Kaphle, executive editor of Rest of World, a digital publication that focuses on technology in the non-Western world; Ginger Thompson, chief of correspondents at ProPublica; Daniella Zalcman, photojournalist and founder of Women Photograph, a non-profit that works to elevate the voices of women and nonbinary visual journalists; Melissa Noel, a freelance multimedia journalist in New York City; Jodi Schneider, political news director at Bloomberg News, based in New York; and Beth Knobel, associate professor of Communication & Media Studies at Fordham University.
"I am so pleased with the experience, diversity and knowledge of our new board members," said OPC President Paula Dwyer. "Their collective wisdom will help the OPC better represent and serve global journalists, as it has for 82 years."
Elected to a second two-year term are J. David Ake, director of photography and assistant managing editor at The Associated Press; Farnaz Fassihi, a reporter for The New York Times writing about Iran; Charles Graeber, an independent features writer, author and producer; Hendrik Hinzel, senior field producer at VICE News; Derek Kravitz, a project editor at Columbia's and Stanford's Brown Institute for Media Innovation, and investigations editor at MuckRock, the nonprofit public records journalism organization; and Bill Collins, communications consultant.
OPC officers and several governors elected in 2020 will serve another one-year term. Officers are: President Paula Dwyer, senior editor, Bloomberg News; First Vice President Azmat Khan, contributing writer, The New York Times Magazine, assistant professor of journalism at Columbia University and the inaugural director of the newly established Simon and June Li Center for Global Journalism, also at Columbia; Second Vice President Douglas Jehl, foreign editor, The Washington Post; Third Vice President Scott Kraft, managing editor, Los Angeles Times; Treasurer Deborah Amos, correspondent, NPR; Secretary Josh Fine, senior segment producer, HBO's Real Sports with Bryant Gumbel.
Governors continuing to serve are: John Avlon, Senior Political Analyst and anchor, CNN's New Day; Albert Goldson, freelance journalist; Marjorie Miller, vice president and global enterprise editor, The Associated Press; Adriane Quinlan, Supervising Writer, VICE News Tonight; Peter Spiegel, US Managing Editor, Financial Times; Liam Stack, Religion Correspondent, The New York Times; Sandra Stevenson, associate director of photography, CNN; Marina Guevara Walker, Executive Editor, Pulitzer Center on Crisis Reporting; Vivienne Walt, Writer, TIME/Fortune; Michael Williams, global enterprise editor, Reuters; Emma Daly, acting deputy executive director for media, Human Rights Watch; Pete Engardio, senior writer, Boston Consulting Group; and Laurie Hays, managing director for special situations, Edelman.
The board is thankful for the contributions and dedication of governors whose terms have expired: Brian Byrd, Linda Fasulo, Ishaan Tharoor and Rod Nordland.
---
The Overseas Press Club of America is the nation's oldest and largest association of journalists engaged in international news. Every April, it awards the most prestigious prizes devoted exclusively to international news coverage. It was founded in 1939 by nine foreign correspondents in New York City, and has grown to nearly 500 members worldwide. The club's mission is to uphold the highest standards in news reporting, advance press freedom and promote good fellowship among colleagues while educating a new generation of journalists.