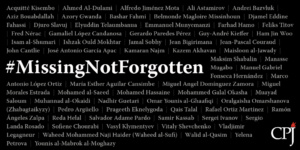 The Committee to Protect Journalists (CPJ) launched the #MissingNotForgotten campaign to call attention to at least 64 journalists around the globe who have gone missing since CPJ began keeping records. The campaign marked the International Day of the Disappeared on Aug. 30. The CPJ created an interactive map to track the cases, of which CPJ noted one-third of the global total were in Iraq, Syria and Lebanon alone.
The Washington Post Press Freedom Partnership highlighted advocates' calls for an investigation into the case of murdered journalist Christopher Allen, who was 26 years old on Aug. 26, 2017, when he was killed while covering South Sudan's brutal civil war. Since then, the South Sudanese government has refused to pursue accountability for his killing despite evidence that suggests Allen was targeted for taking photographs of the battle. Read the latest on his case.
The James W. Foley Legacy Foundation has announced that this year it is calling for participants in the 2020 James W. Foley Freedom Run to join virtually as thousands of runners and walkers worldwide participate on Saturday, Oct. 17, to run in remembrance of Foley, a native of New Hampshire, and "advocate for the freedom of all Americans held hostage abroad and promote the safety of journalists worldwide." The foundation Foley, an American freelance conflict journalist, was kidnapped in 2012 while reporting from Syria and killed by ISIS in August 2014. Read more and register for online events here.
In addition, on Sept. 16 the James W. Foley Legacy Foundation will host a live discussion titled "Moral Courage in Challenging Times," which will include panelists exploring how the COVID-19 pandemic, police brutality, racism and attacks against the press have impacted the work of leaders, advocates, and the public. Read more and register here.